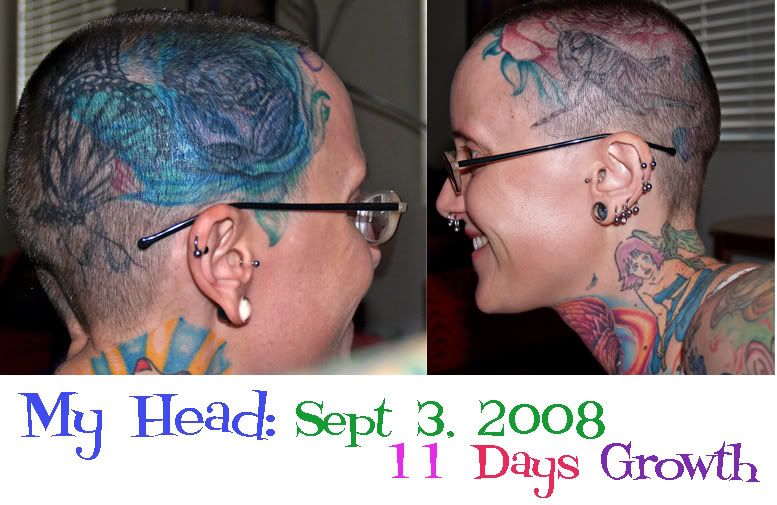 ahhhh, yes...it is time to update on the hair project.
So, I am 11 days in, since "Bic-ing" it for the photo shoot. Going through the itchy, prickly, fuzzy stages again; but keeping a positive attitude.
One baby step at a time, eh?
On a vegan note...I am enjoying this lifestyle more & more every day. Steve and I hit Trader Joe's on Monday (which he actually had off from work for Labor Day) and bought a bunch of yummy vegan-friendly products. I am stoked to report that he is joining me in the vegan dedication. He went from omnivore-to-vegetarian-to-vegan all within a matter of weeks. YAY, Steve!! It makes it so much easier to have a partner in this transitional time and I couldn't be happier about that!!
It amazes me at the diverse vegan choices available if you just take the time to pay attention to labels and LOOK!! I am constantly trying to read and learn more; and want to dedicate much more time to cooking and baking than I have in the past. YAY for GOOD changes!!
Brynn started high school yesterday and it's awfully strange to have a child move on into this stage of life; yet, exciting and cool to be to this point of progression in the parenting realm as well. So, looking forward to an interesting and fun year in that arena...if only we can adjust to the 7:40 am start time - eek!
Over & Out...